Full Day Incursions
Aaron Hall and Nita Rahayu are delighted to offer the following workshops and performances, which will support your Indonesian, music or arts program. They are a series of authentic cultural experiences that will give your students a real taste of Indonesian music, arts and culture. Workshops will be run by Aaron or Nita, or one of their contacts with specialist expertise.
Gamelan
The real thing. A Central Javanese gamelan brought to your school. Your students will actually learn to play a genuine gamelan song on a genuine gamelan orchestra. Aaron offers gamelan workshops for schools and colleges. Instruments include saron, bonang, bonang penerus, kendang, kempul, kethuk, kenong and gong. Enough instruments to seat 26 students at a time. Workshops are adjusted to suit the particular age level of the students.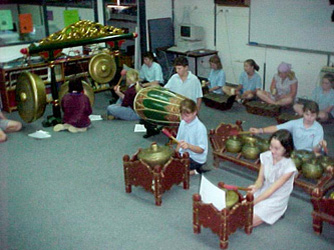 Gamelan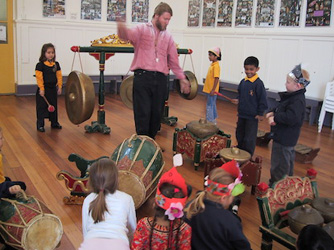 Gamelan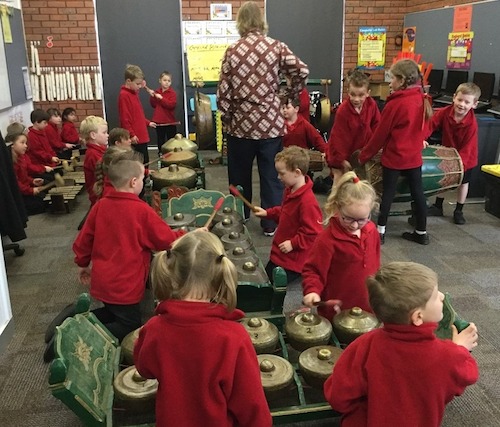 Gamelan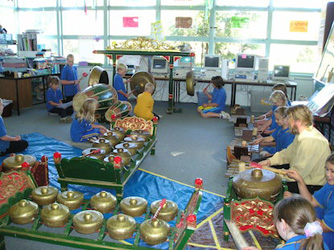 Gamelan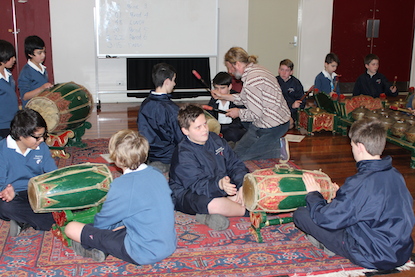 Gamelan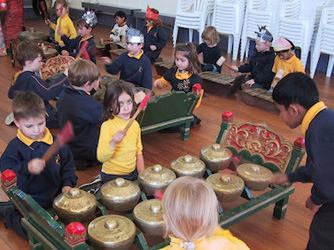 Gamelan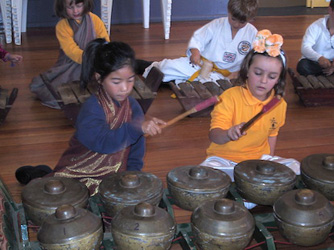 Gamelan
Upper Primary & Secondary students will actually learn to play a genuine gamelan song.
Mid Primary will learn a simplified version.
Juniors will experiment with the fascinating sounds that the instruments make, to create their own patterns.
You will be amazed at what can be achieved by your students in a limited time.
Dance
Nita has been immersed in Indonesian dance since a child, and now runs Indonesian dance workshops for schools. The dances are chosen to suit the age level of the students, and will be chosen from Tari Topeng (mask dance), Tari Satria (warrior), Tari Pongan (shepherd), Tari Kijang (deer), Tari Kupu-kupu (butterfly), Tari kelinci (rabbit), Tari Blek dik dot (Indonesian clown motif), Tari Saman (from Aceh), Tari Rampak (funny group dance from Java), Tari Gembira (the dance of joy) and Tari Lilin (candle dance). Tari tempurung (coconut), Tari Bamboo gila (bamboo dance), Poco-poco (a modern aerobics style of dance) from Ambon and the Kecak dance/drama). We put some dances and gamelan into the story if it is to be performed to the school at the end of the day. For example in the story when Rama enters the wild forest full of strange creatures, we get one class to perform tari topeng, and when Hanoman's army come forward we get another to perform Tari Rampak etc. We use gamelan in the intro scene, exit scene, battle scene and special effects. We have now added "The legend of Candi Prambanan", "The dancing pig" (a Balinese folk tale) and "Kancil, the clever mouse deer" to our role play/dance drama repertoir.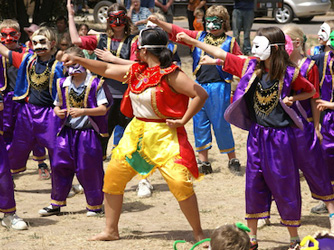 Tari Topeng, Ramayana role-play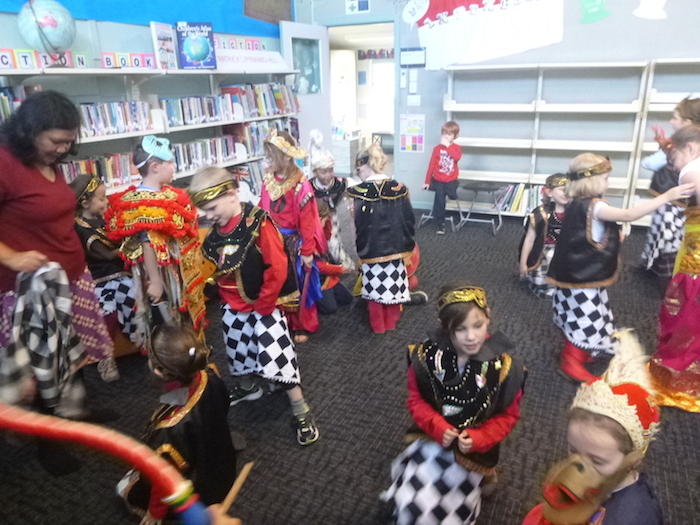 Kecak, Ramayana role-play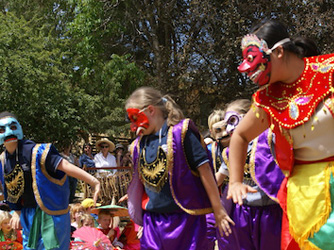 Tari Topeng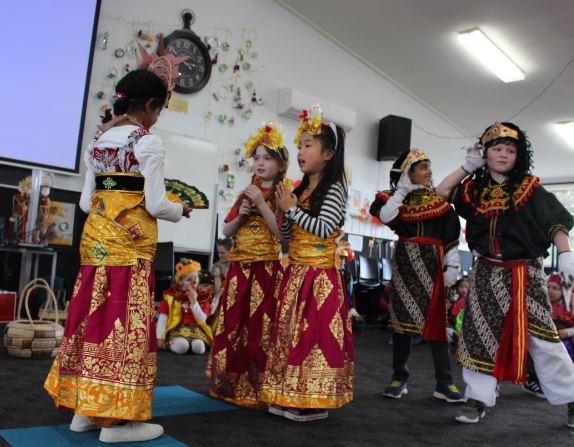 Dancing pig role-play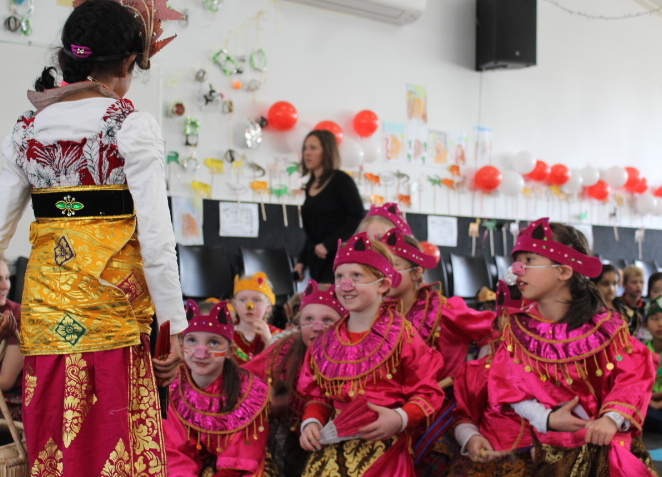 The pigs, Dancing pig role-play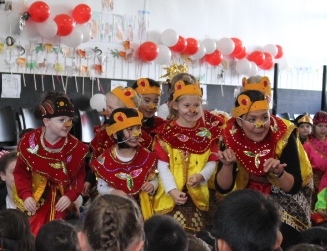 Tari tikus, Dancing pig role-play
Tari Kupu-kupu, Dancing pig role-play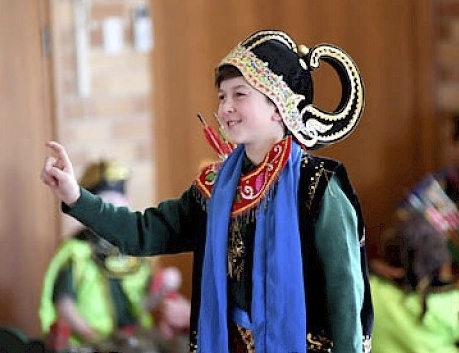 Candi Prambanan role play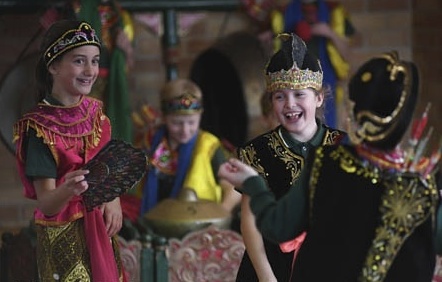 Candi Prambanan role play
Tari Harimau, Kancil role-play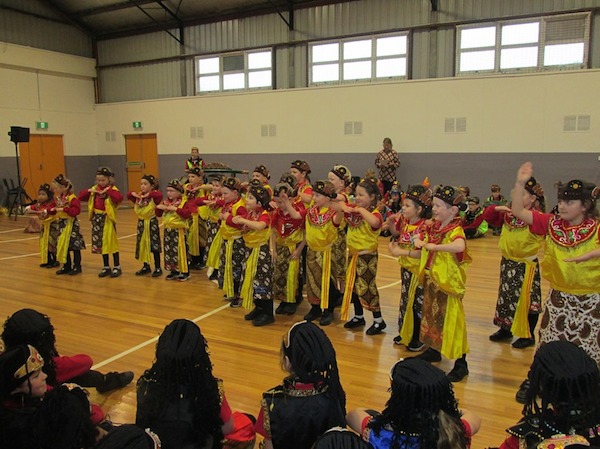 Tari Monyet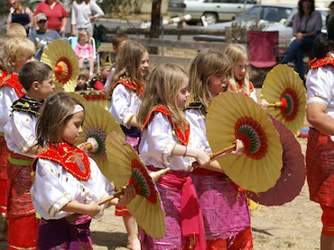 Tari Payung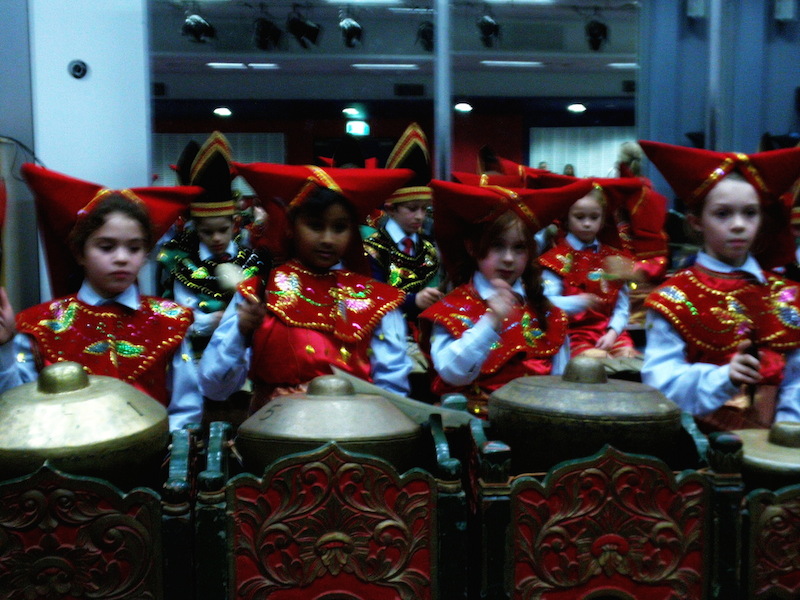 Tari Piring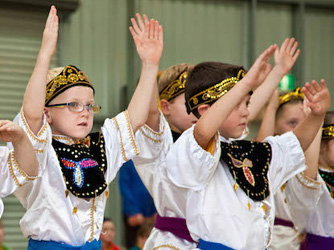 Tari Rampak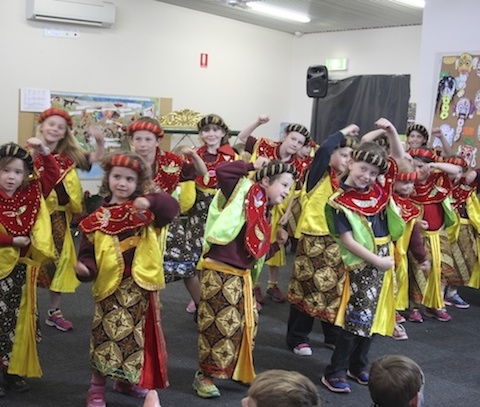 Tari Rampak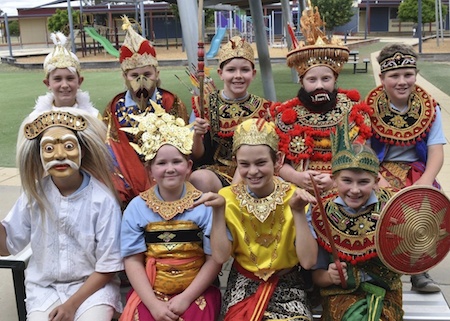 Ramayana role play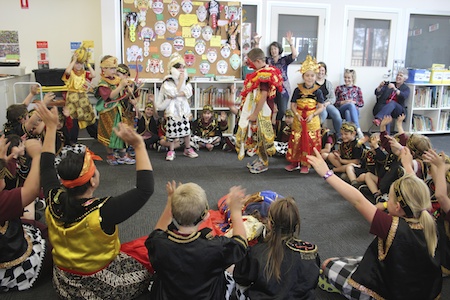 Ramayana role play/kecak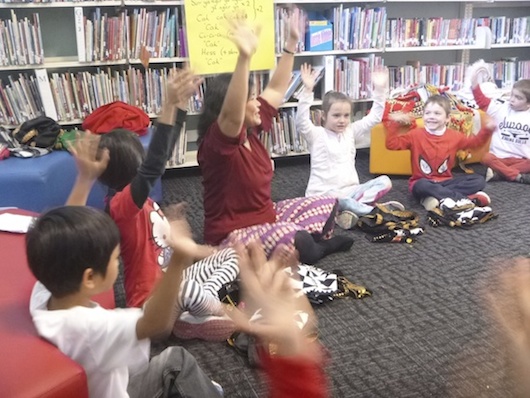 Kecak, Ramayana role-play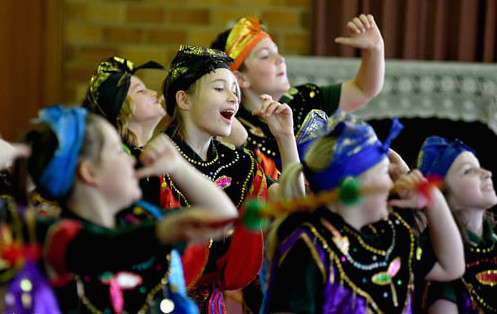 Tari Pongan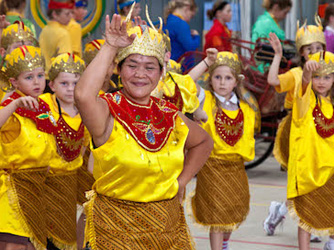 Tari Kijang, Kancil role-play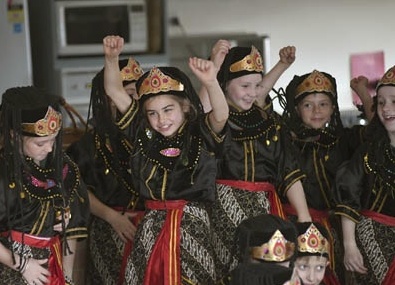 Tari Buto, Dancing pig role-play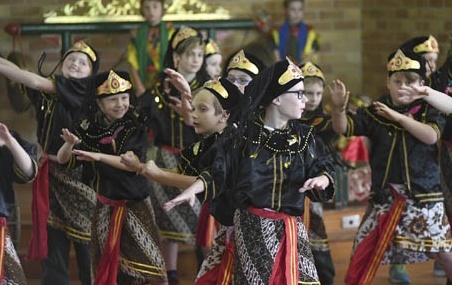 Tari Buto
Pencak Silat
Indonesian martial arts. Workshops start with a performance of pencak silat dance, then the students are taught some pencak silat self defence and tenaga dalam, a meditative style.
Kendang
West Javanese (Sunda) style drumming workshops. A class set of drums are brought to your school so that your students may explore the scintillating rhythms of Sundanese drumming.
Batik
Students will make a batik handkerchief or picture on cloth. Senior Primary and Secondary College students will use the traditional hot wax on cloth. Junior Primary will use the cold wax method.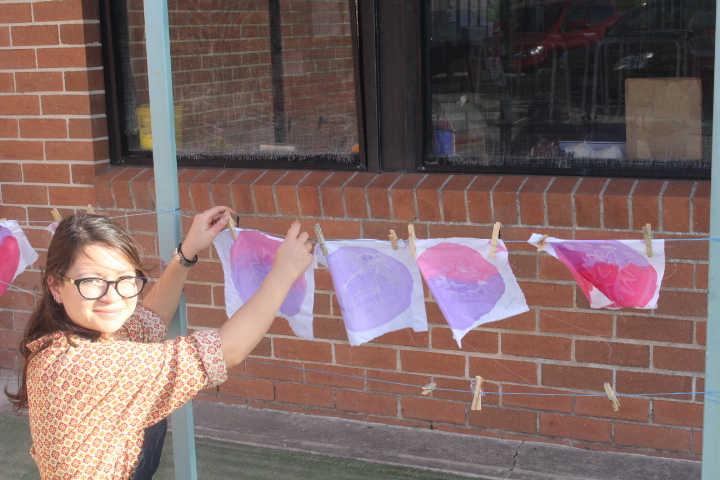 Batik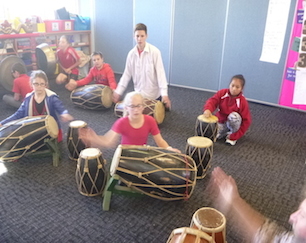 Kendang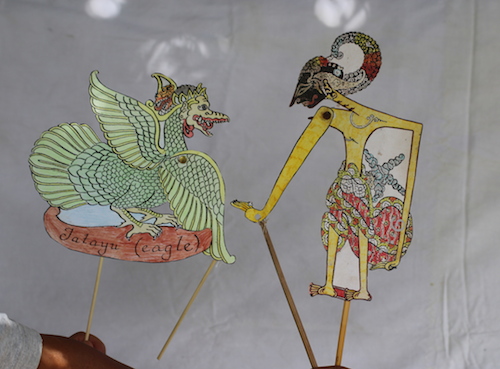 Shadow Puppet Making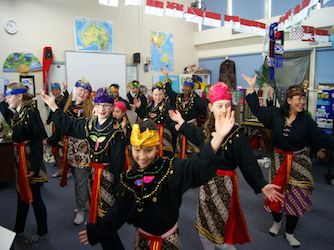 Pencak silat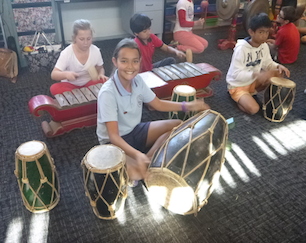 Kendang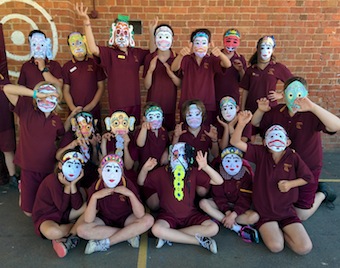 Mask Making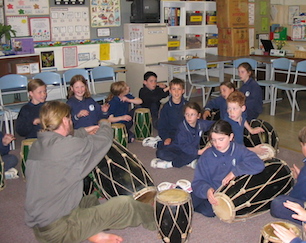 Kendang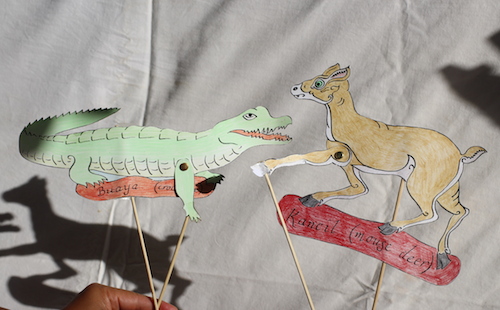 Shadow Puppet Making
Village games
Students play some of the games commonly played by Indonesian kids such as "pen in the bottle", and "roll the stagen". These games are played in the home and also often as part of Independence day celebrations.
Angklung
Bamboo music from Indonesia. Students will play an Indonesian song on the angklung.
Village life
We use a traditional Maduranese sate cart to involve the students in a sate buying role-play. Also jamu equipment for a jamu buying role-play and a kentongan for a ronda role-play.
Cooking
The students will cook dadar gulung or one of the delicious Indonesian sweet snacks.
Becak Hire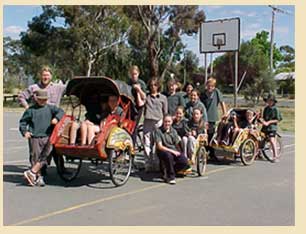 An original becak from Yogyakarta plus a mini becak (that even the preps can ride) are available for hire.
Mask Making
Students will make an Indonesian mask using some traditional mask patterns from Java, Bali or Kalimantan. Everything provided except textas or other colouring implements.
Wayang kulit making
Students will make a wayang kulit puppet from cardboard. Students can choose from the Ramayana series (Rama, Sinta, Rahwana, Naga, Garuda), or the Kancil series, which has Indonesian forest animals. Most puppets have moving arms, legs or wings. Everything provided except textas or other colouring implements.
Shadow Puppet Performance
The delights and imagery of the Wayang brought to your school. The traditional stories of the wayang are adapted to be accessible to your students. The stories come from the Ramayana or Mahabarata (the Indonesian epics originating in India) or the cheeky and clever kancil (mouse deer). Recently received the ultimate accolade "Better than T.V." (Sean, grade 1, Dawes Rd. Primary School). The length of the performance may be adjusted to suit your needs, but 30 - 45 min. is a common length.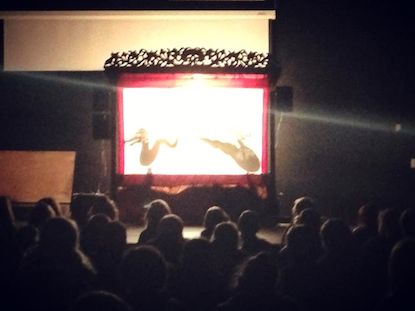 Shadow Puppets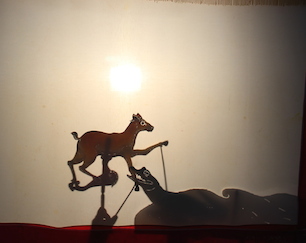 Wayang kancil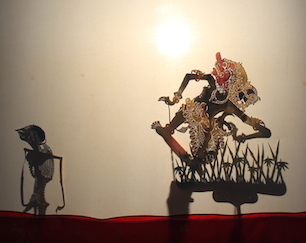 Timun mas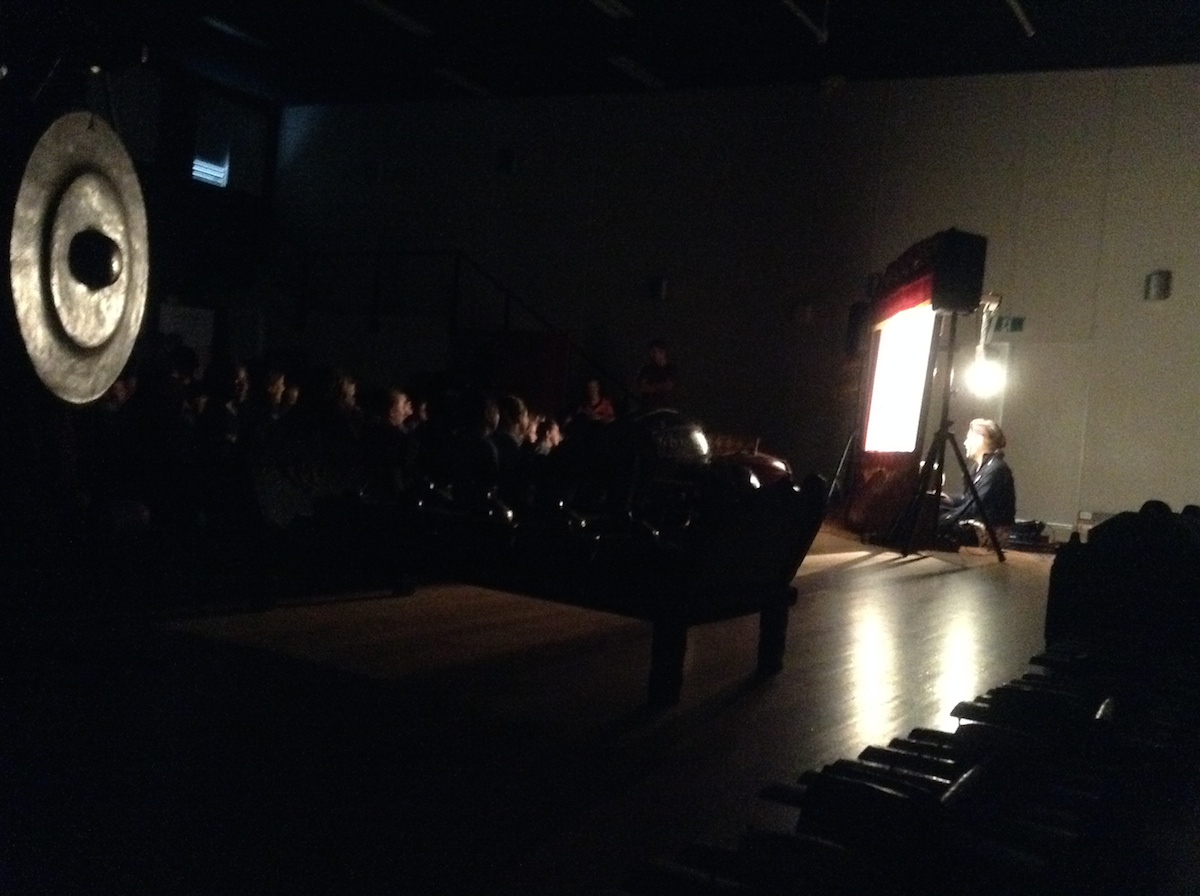 Dalang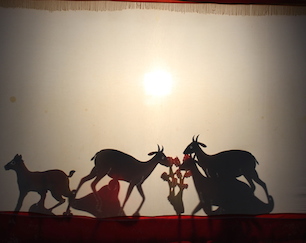 Wayang kancil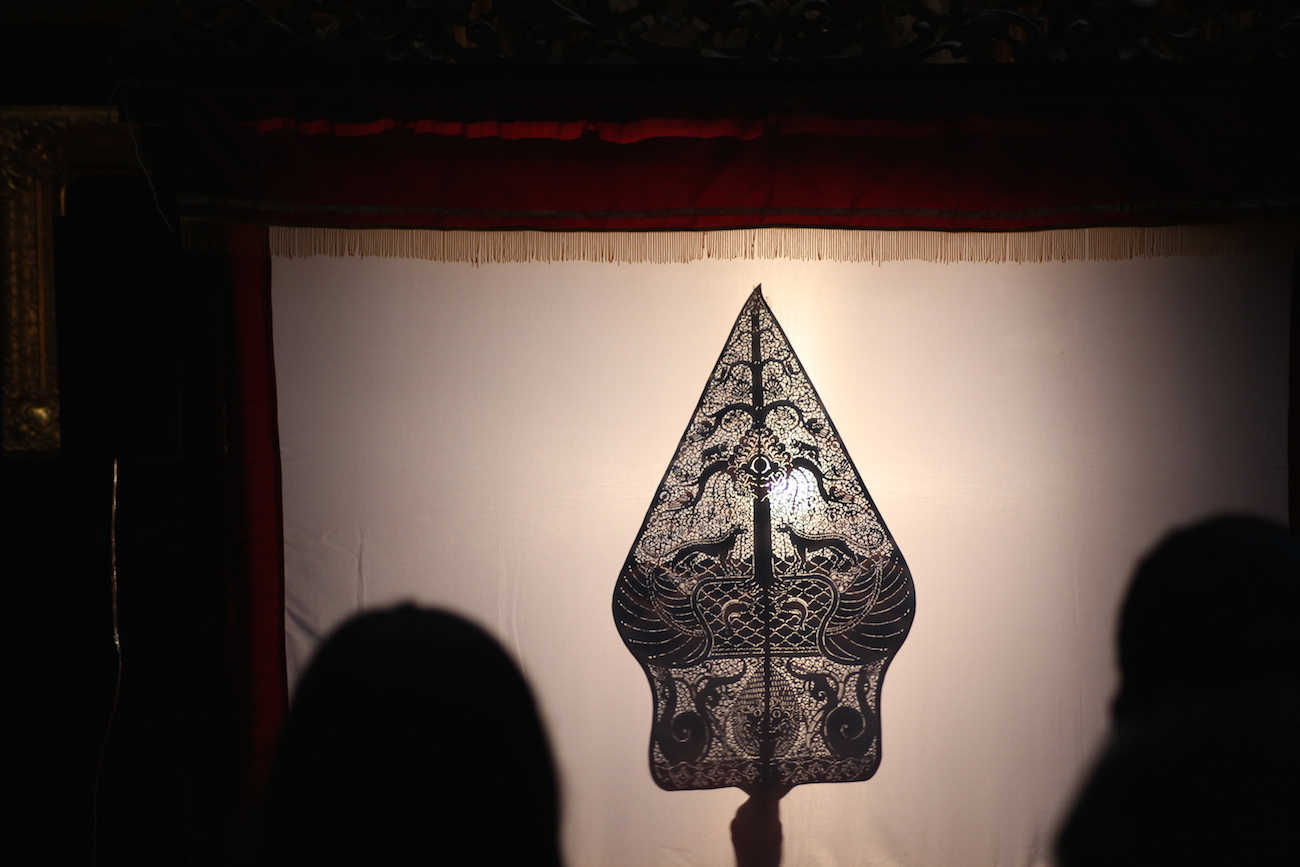 Gunungan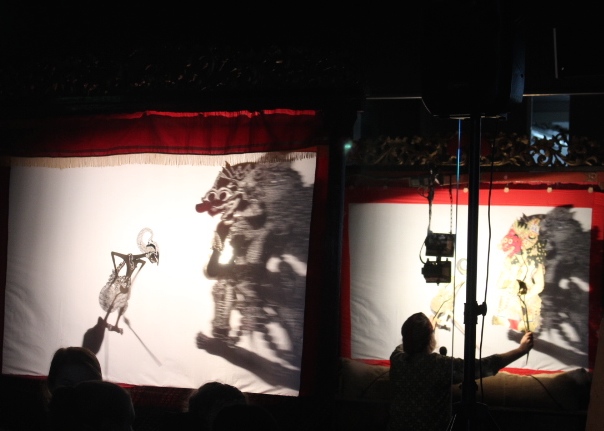 Laksmana & Kumbokarno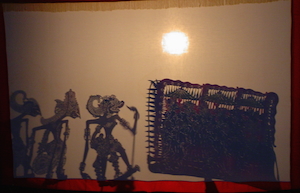 Hanoman's army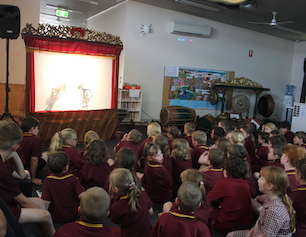 Shadow Puppets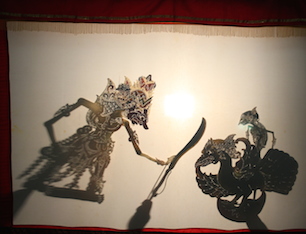 Rahwana attacks Jatayu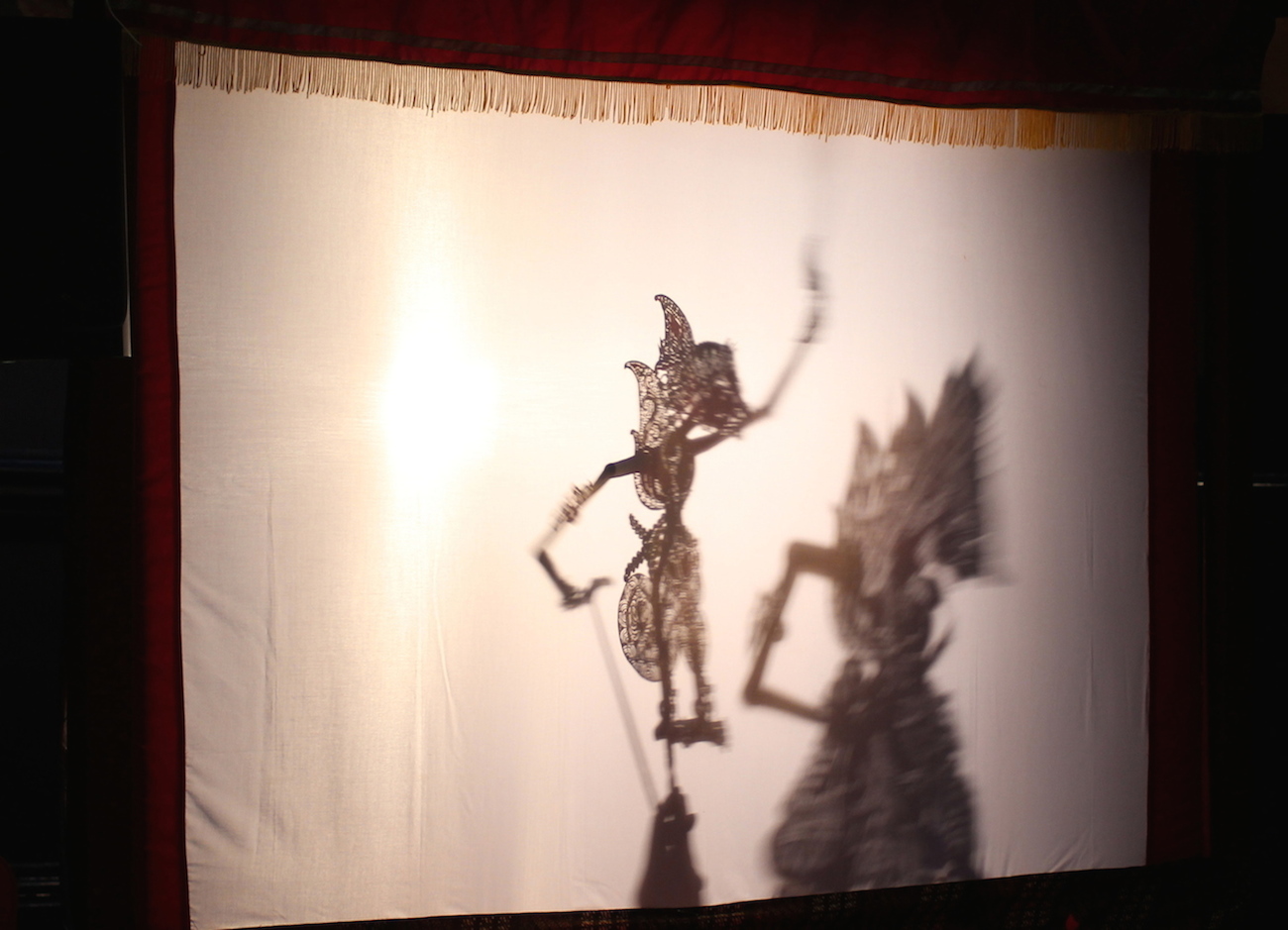 Take that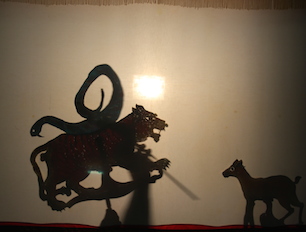 Wayang kancil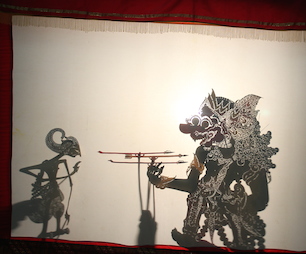 Laksmana and Kumbokarno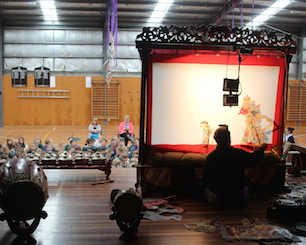 Shadow puppets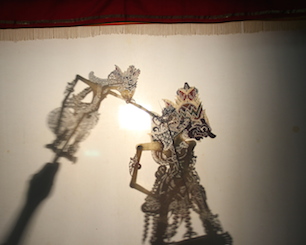 Rama and Rahwana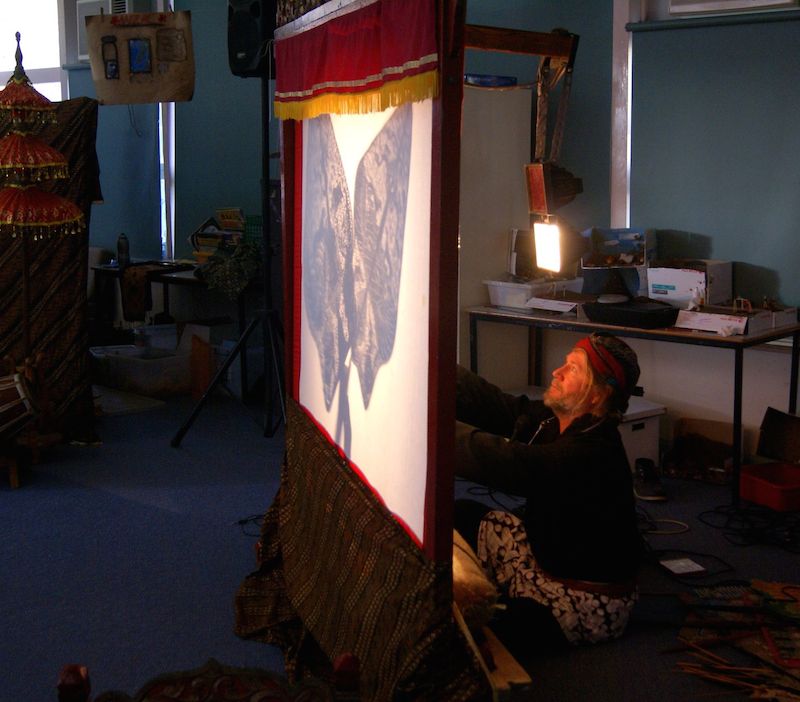 Shadow puppets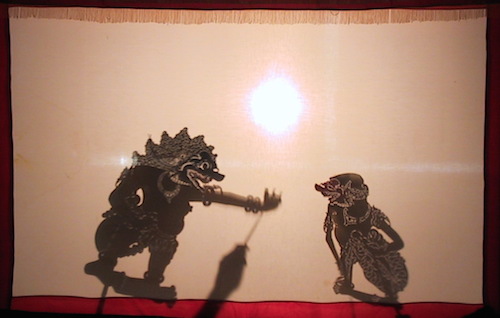 Buto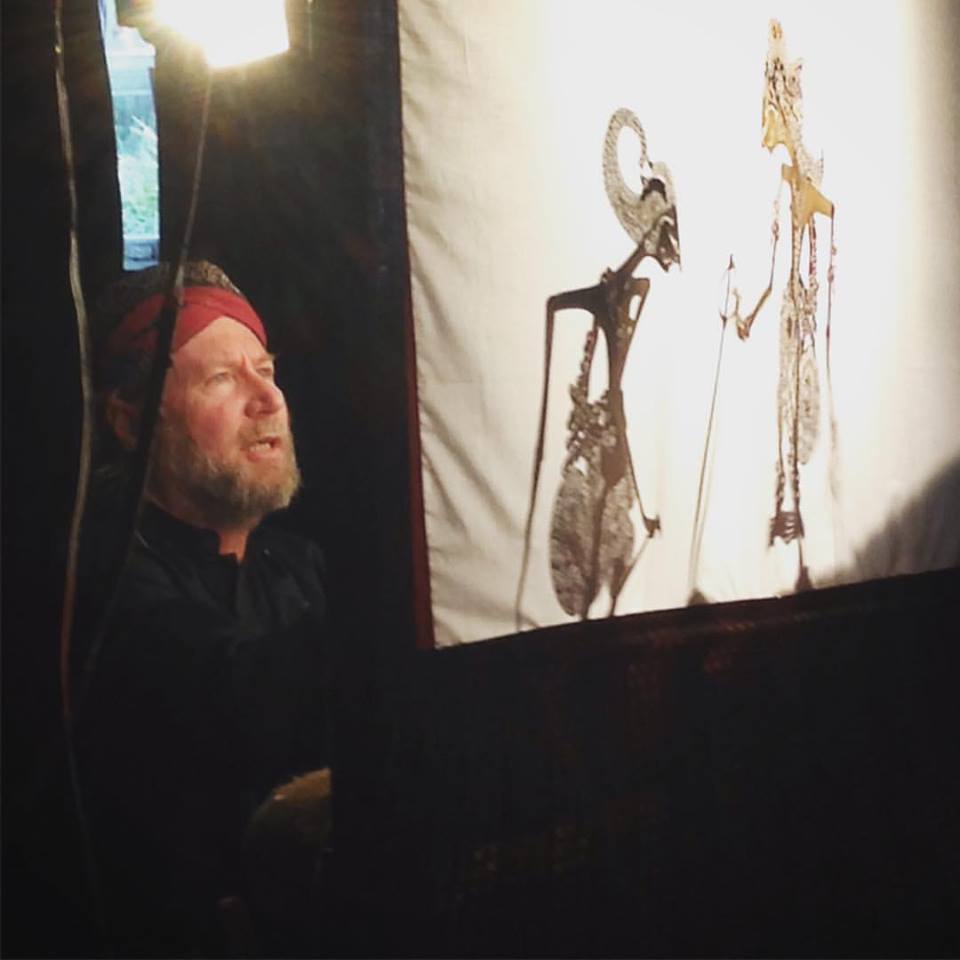 Shadow Puppets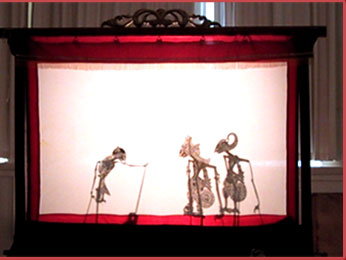 Rama, Sinta and Laksmana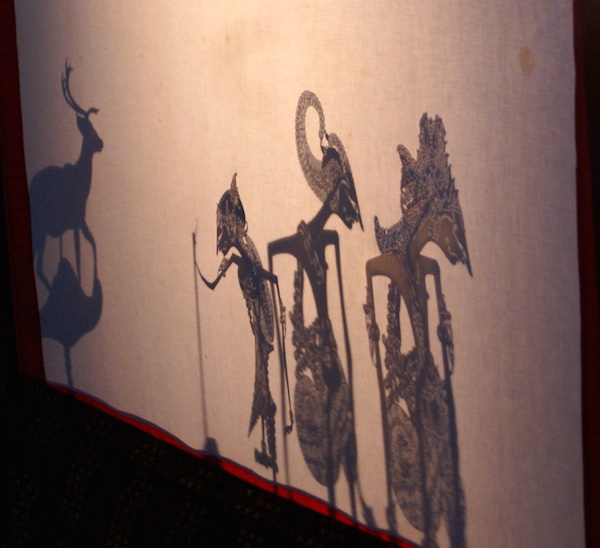 Ramayana
The Program
A popular format for the day is to run 45 min. (sometimes less for Junior Primary) workshops in the morning followed by a performance in the afternoon. The performance often starts with a Shadow puppet performance by Aaron. Then it's time for the students to perform. The students perform their gamelan piece and dances studied earlier in their workshops (students in full dance costume). Lately the final performance has often been of the form of a dance drama by using a story indispersed with dances and gamelan. See above in the dance section for more details. Parents are often invited to the final performance to watch their children perform their dance or gamelan. An ideal way to finish off a successful Indonesian day.
Our workshops are very "hands-on", so group sizes should be kept to class sized groups of less than 30 students at a time.
View a full day incursion by Bagus kan! on http://www.youtube.com/user/baguskan.
As well as full day incursions and pentawasik (the performance of Indonesian dance, music, martial arts and shadow puppets), Bagus kan offers shadow puppets as a performance by itself. This performance can go for 30 – 45 min depending on the story and timetable.
Cost
Workshops (full day, gamelan, dance etc.) $720.00 per day per facilitator, plus travel.
Shadow puppet performance costs an extra $120.00, + $1.50 per student over 200 students. Becak hire is $100.00 per day.
Travel costs. $50.00 per 50 km from Bendigo, first 100 km free. Melbourne schools - North of city or Eastern fwy/Geelong fwy $100.00, South of city or Eastern fwy/Geelong fwy $150.00. Two consecutive days, no travel charge. Further discounts apply to extra consecutive days.
For example, if Aaron and Nita were to come to your school to run gamelan and dance workshops, plus Aaron was to perform the Wayang kulit (and there were less than 200 students watching the wayang), plus you were to hire the becak for the day, and your school was in the North of the city (making travel $100.00), then the cost would be: $720.00 (facilitator 1) + $720.00 (facilitator 2) + $120.00 (wayang kulit performance)+ $100.00 (becak hire) + $100.00 (travel) = $1740.00 + GST $174.00 = $1914.00.
Shadow puppet performance only costs $580.00 + $1.50 per student over 200 students + travel. Extra shadow puppet performances on the day incur an extra cost of $60.00 per performance.
Or why not have a shadow puppets "plus", which is a shadow puppet performance plus pencak silat, kendang (drumming) and bonang (a gamelan instrument) demo. A shadow puppet "plus" performance costs an extra $100.00.
Please note! GST component not taken from LOTE budget, but from school GST fund.